Kask ski helmets with visor are known for their stylish Italian design. The Kask Ski Helmet Women & Men is available in 5 types, many colours and sizes. For all info about Kask ski helmets scroll down ⏬.
Kask helmet ski with visor - All important info summarised.
All types of Kask ski helmets have the same fit
All Kask ski helmets have the same fit, so the price difference is only in the design and possibly the type of visor that is on the helmet. The all-in-one helmets from Kask are excellent value for money and meet the CE EN 1077 standard, for ski and snowboard helmets. To protect the ski helmet, a nice Kask ski helmet bag is included free of charge. Almost all of these Kask helmets can be collected from us by arrangement. If you prefer a different colour for the Kask ski helmet, please contact us because we can order it for you!
Kask ski helmet with visor complete new from season 19-20!
The Kask ski helmet and the Kask Piuma visor have been completely changed from the previous model for the 19-20 season. CAUTION! The new type of kask Piuma R visor does not fit on the old models such as the kask class, kask class shadow and kask elite pro carbon! However, you can still order the old Kask Piuma visor from us, we have bought up the last stock of these Piuma visors. The Kask Class, Kask Essential and Kask Class Matt ski helmets are also no longer being manufactured. It's a shame, because the kask elite pro carbon and the kask class shadow were our bestsellers, but after 10 years of renewal, it's about time.
Kask ski helmets have a soft lining & good ventilation
The inner lining and earpads of Kask helmets are made of soft and warm merino wool. This fleece wool is very breathable, washable and odourless. A Kask ski helmet is very light thanks to the in-mold construction. The adjustable vents provide excellent ventilation, so you won't sweat so quickly.
Differences between the Kask ski helmet models
| | |
| --- | --- |
| Kask Elite Pro | The Kask Elite Pro Carbon has a carbon surface and black or brown ears |
| Kask Chrome | The Kask Chrome has a chrome-coloured surface on the helmet shell |
| Kask Shadow | The Kask Shadow is one of the best selling models because of its beautiful design! |
| Kask Monte Carlo | The Kask Class Monte Carlo has a trendy design and is available in red and yellow |
| Kask Class sport | The Kask Class Sport is the sporty version, with beautiful colour combinations |
The Kask visor was developed together with Zeiss!
The Kask Piuma visors were developed with opticians from Zeiss and offer you a beautiful all-round view. A Kask visor is 100% UV-resistant, has an anti-fog coating and is scratch-resistant! It is also ideal for spectacle wearers, as they can easily keep their glasses on. The visor has a soft seal so it feels good and doesn't press into the face like ski goggles. The category depends on the type of visor chosen.

You can also buy a Kask replacement visor in 9 different versions from us for different weather types or looks see picture below. A loose Kask helmet ski visor is very easy to change! The Kask Orange visor is sold as an extra Kask visor most of the time, as many Kask ski helmets are equipped with a Silver visor or Photochrom visor. But with a separate Kask visor you are prepared for any weather! Besides Kask helmet accessories, we also have ski goggles, protectors, gloves, ski helmet bags and many other ski accessories in our range.

We have the Kask Piuma visor in stock, as well as the kask ski helmet replacement visor photochromic (☁/☀/❄) A self-tinting photochromic Kask visor is currently only available in the colour pink. We hope that Kask will soon come out with more colours of Kask visors that are photochromic. What is also missing at Kask is a polarised visor, or polarised & photochromic. When you want the best image on the slopes, it is now only possible with a CP or Slokker ski helmet.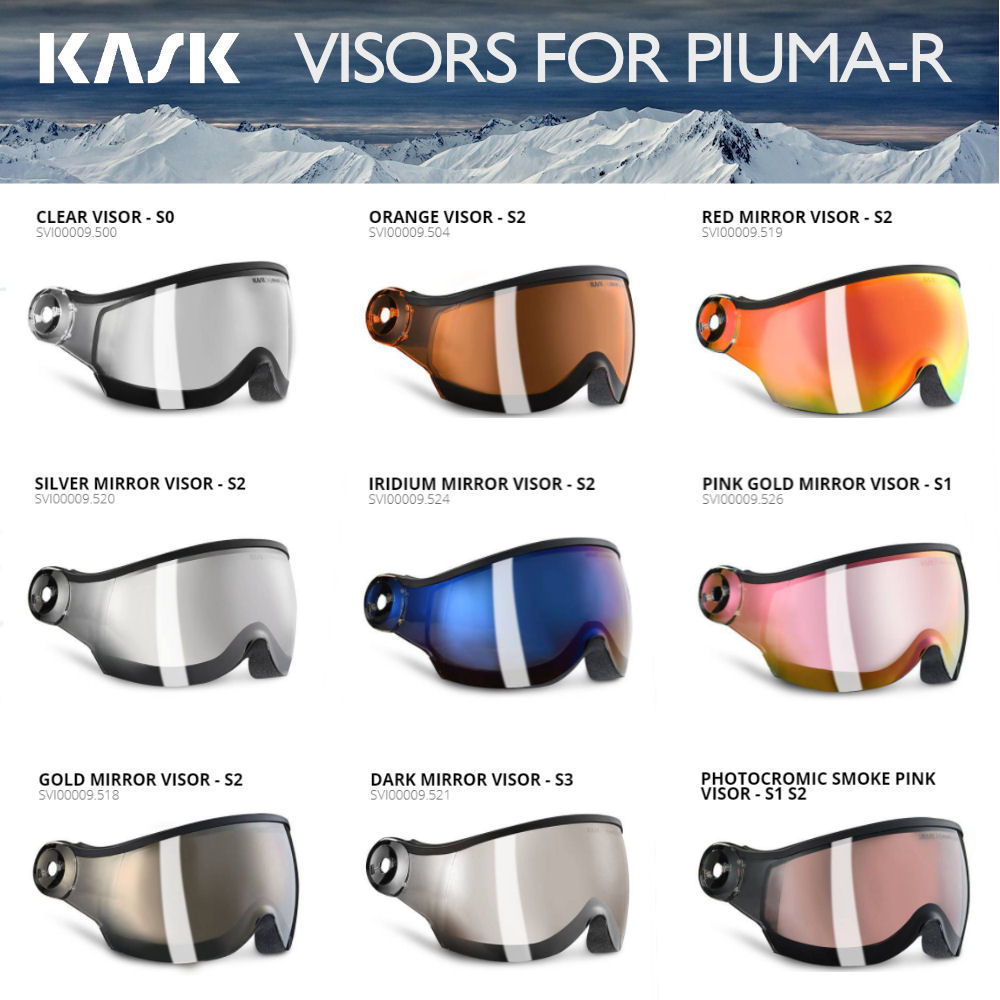 Advantages of Kask ski helmets with visor
Kask ski helmet advantages
Extra light (approx. 430 grams) due to the Inmold helmet shell.

Many models with beautiful finishes and many colours

Soft and comfortable fit with removable ear pads

Extensive functionality and ease of use

Italian brand ski helmet, known for beautiful finishes

Comes with free beautiful Kask ski helmet bag
Kask Ski Helmet Visor Advantages
Visor is top quality, developed with Zeiss

Ideal for spectacle wearers who can use their glasses normally

Does not press into the face like ski goggles

Many separate visors for different weather or appearance

Visor can be opened and closed quickly, even with a glove
Kask ski helmet test
We have only found one old Kask ski helmet test from Stiftung Warentest and there the Kask ski helmets were tested well, with the test result good. But it was the Kask Style, and we do not sell the type Kask ski helmet. We only sell the new Kask helmets with other variants.
Hopefully we will have another test for these Kask ski helmet models, but we expect a good test result.
Kask helmet ski with for sale at TopSnowShop. We have the largest selection of Kask ski helmets.
We have the Kask ski helmet men and Kask ski helmet women in many trendy Kask models and colours. We have these Kask ski helmets in stock: Kask Class Sport, Kask Shadow, Kask Elite, Kask Monte Carlo, Kask Chrome or Kask Piuma replacement visors. The old Kask ski helmet models < season 19-20 are unfortunately no longer produced. Like the Kask Class Ski Helmet, Kask Class Matt Ski Helmet, Kask Elite Pro Ski Helmet, Kask Class Sport Ski Helmet, Kask Class Shadow, Kask Class Chrome, Kask Monte Carlo and the Kask Essential.
Do you need more information about the Kask ski helmet with visor?
Don't hesitate any longer between ski helmet with visor or loose ski goggles, because the ski helmet with visor has many advantages! Do you have further questions when buying a Kask ski helmet ladies or Kask ski helmet men? We will be happy to help you! Ask your question by e-mail or via the contact form and you will receive an answer from us within 24 hours! Would you like an immediate answer? You can always call us, or send a Whats-App message or use our chat service.
About the brand Kask
The biggest trend at the moment is ski helmets with visors, which have many advantages. The beautiful Kask ski helmets with visors are a must in our range. Kask is an Italian ski helmet brand founded in 2004 and produces helmets with the highest quality materials. Kask ski helmets are also very well known from cycling (Team Sky). In addition to Kask ski helmets, we also sell matching Kask Piuma visors. The Kask company is still relatively young. It employs a talented team of engineers as well as partners and has seen strong growth in recent years. For its great design, the Kask helmet has been awarded prizes such as ISPO or Eurobike. Kask's corporate goal is to bring technological perfection, functionality, safety and attractive product design to Kask ski helmets in optimal harmony.

Kask ski helmets and kask helmet accessories are there for skiing, touring skiing, mountaineering, climbing as well as at work, safety helmets by Kask are in demand.

Can't wait that long? Also check out the FAQ, the ski helmet buying guide page for ski helmets with visors.
---
Why buy a Kask ski helmet with visor at TopSnowShop?
Buy a Kask Ski Helmet with 100% TopService
Largest selection of Kask ski helmets with visor in many variants

Fast delivered over the whole world also by Express Shipping

Real TopService, 98% of our customers recommend us!
Kask helmet ski with visor easy buy online at TopSnowShop.eu
You have decided to buy a kask ski helmet with visor (ski helmet with goggles)? Then order the visor helmet conveniently online at TopSnowShop. Would you like to know which ski helmet kask size is right for you? On our website you will find detailed fit recommendations for determining your head size. You can use these to choose the right ski helmet size. Use the various filter options to find exactly the ski helmet that fits you best.

All kask ski helmets with visors shown in our online shop are in stock and available for immediate delivery. Your visor helmet ordered on weekdays before 14:00 = shipped the same day. To an adress outside of the European Union we do not charge customs VAT for the ski helmet with visor on orders. However, there might be customs charges helmet with visor ski that will have to be paid by the customer. We ship the ski helmet with visor out of Europa also with Express Shipping! Our TOP- service is rated as excellent by our customers! We ship the kask ski helmets to the UK, Australia, USA, Canada etc..
The No. 1 among the top brands for the wintersporters!
So are you going to the snow soon? And are you looking for a cool, comfortable ski helmet with visor? Then TopSnowShop is the shop for you, because nowhere else will you find a larger selection of ski helmets with visor from top brands in stock. You can buy a ski helmet with visor from the following TOP brands with us: CP, Kask, Casco, Mango, Slokker, Bollé, Uvex and Osbę. Buying a ski helmet online is easy and we deliver very quickly from stock. You can also contact us for a ski helmet replacement visor, ski helmet accessories, ski helmet bags, ski goggles, ski bags and take advantage of the SALE!

So for kask ski helmets like the Kask Class Sport, Kask Shadow, Kask Elite, Kask Monte Carlo, Kask Chrome, Kask Visor Piuma or an other kask helmet ski go to No.1 TopSnowShop.eu!