This sporty and brand new CP Corao+ Ski helmet with visor is super safe and offers you even better protection against shocks! This by means of the ODSA system (Omni Directional Shock Absorption), specially developed by CP for this ski helmet. It protects your head and brain even better in case of an oblique impact. Optionally, the helmet in black and white is also available as Corao (without ODSA).

The trendy ski helmet is for Ladies & Gentlemen and for every ski outfit there is a matching color. The helmet is also available in a large ski helmet size up to 64 (ski helmet xxl). For more info read more below on the page.

We offer the CP Corao with the CP Visor in many types, free of charge as a service for you !
Why ODSA?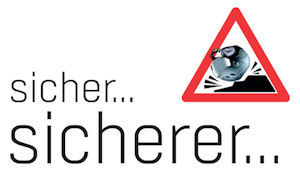 CP helmets offer the best possible protection against head injury thanks to their experience, design and use of excellent materials. But even the best ski helmet cannot prevent traumatic brain injury one hundred percent. Especially an oblique impact, which makes the brain rotate, increases the risk of traumatic brain injury. This is why CP developed the new patented ODSA system for the CP Corao+.
How does the CP Coroa+ with ODSA system work?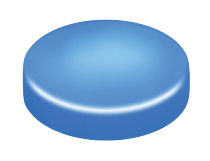 The helmet shell of the Corao+ consists of two separate parts (A and B) connected by three gel pads. See also the picture below. The gel material of these pads (originally designed for medicine) is optimally suited due to its properties. These pads are permanently elastic when hot and cold and return to their original shape after an impact.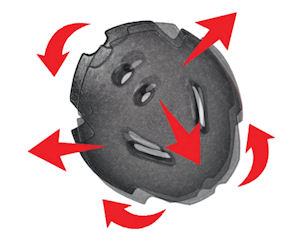 In this way, the force can be absorbed in all directions in the event of a blow to the Skihelm scale! This is in contrast to "normal" ski helmets which only absorb the direct impact and provide protection on the outside of your head. But the ODSA system also provides extra protection for the brain because the inner shell can move with you in the event of a fall when you are in motion.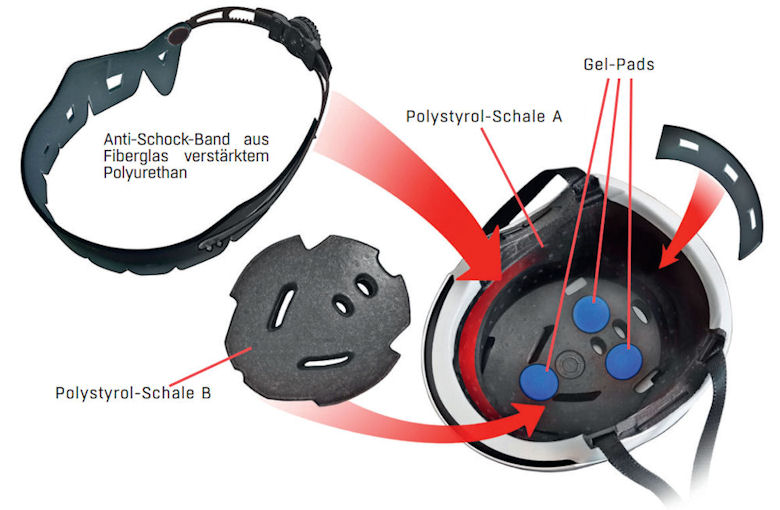 Difference CP Ski helmet with ODSA and MIPS Ski helmet
Maybe the term Skihelm MIPS tells you something. Also with a MIPS Skihelmet the inner shell consists of 2 parts, so that your head and brain are extra protected in all directions in case of a horizontal impact. The difference between the CP patented ODSA system with a MIPS ski helmet is that the ODSA system protects you vertically by the damping gelpads. In addition, the Corao+ ski helmet is also equipped with an anti-shock strap for even more safety.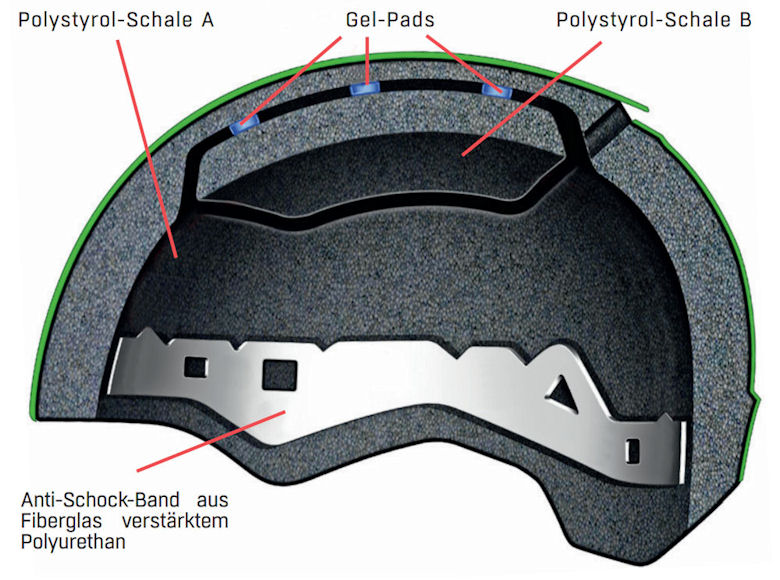 From the point of view of safety & comfort, the CP Corao+ is probably the best ski helmet with visor on the market !